Hollywood Lifestyle
Saturday, September 17th, 2011 at 10:35 pm
It's something all of us have dreamed about.  A life of complete abundance, surrounded
by palm trees and the smell of the ocean.  A social scene full of beautiful people and the most fabulous parties.  And an exhilarating ride back to your quaint, Spanish-style villa in your supercar with the top down.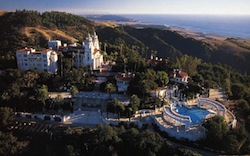 Nothing quite exemplifies this vision of success and affluence like the Hollywood lifestyle.  Beyond the gritty details of assembling, shooting, and marketing the next big feature film or television series, there exists another world that is far more glamorous once the sun goes down over the Hollywood hills.
You don't have to have a five million dollar mansion or live in Southern California to enjoy the Hollywood lifestyle (though it certainly helps!).  With a few simple steps, you too can enjoy life in the fastlane… no matter where you are or how much money you make.
Build a Hollywood Body: even if you're not the superficial type, there's no denying that most of the best-known Hollywood personalities have fantastic bodies.  Getting in shape will get you confident.  It will also get you noticed, which is half the battle when it comes to creating your own version of the Hollywood lifestyle.  With the right program, you can be on your way to becoming sexy, lean, and healthy.  You can read my review of the program that's helped me achieve this look in my own life here.

Network, Network, Network:

talent means nothing if it goes undiscovered.  If you want to live the life I described above, you need to shake free of any shyness you might have.  When it comes to creating a Hollywood lifestyle, the old cliche rings true: it's not what you know, it's who you know.  Make a conscious effort to meet new people and expand your social circle.  Chit chat with with total strangers.  You never know who these people might know and how connected they could be.  And don't forget to provide social value as well.  Become the guy or girl who people call to find out what's going on that night, and always try to invite people out to join you in whatever you do.  It's amazing how many Hollywood greats were discovered through a friend of a friend or at some other fortuitous encounter.

Bone up on Hollywood History:

some things come and go, but it's important to keep in mind that the truly successful people borrow heavily on the generations that came before them.  If you truly want to enjoy a Hollywood lifestyle, it's important to start taking the movies you watch a bit more seriously.  Classic movies offer glimpses into what was popular throughout Hollywood history.  Some of the surface elements change but if you watch enough movies you can distill from them common, timeless themes.  The snappy dialog from classic fim noir will always be cool.  Just like the seduction scenes in a romance will always be tasteful and the encounter with the killer in a horror flick will always be scary.  If you study the conventions, you can manipulate them in ways that put your own unique stamp on cinematic history.
If you follow these few tips you'll be well on your way to creating your own edition of the Hollywood lifestyle.  Have fun rubbing shoulders with influential people, building an awesome body, and brining your own unique brand to the world!

Filed under: Uncategorized
Like this post? Subscribe to my RSS feed and get loads more!