DVD Storage Ideas
Saturday, August 20th, 2011 at 4:43 am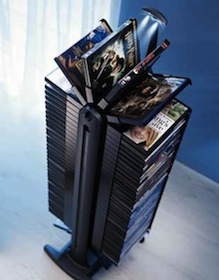 Call me old-fashioned if you like, but I still really enjoy my collection of DVDs.  With the trent towards digital media, more and more people are forgoing hard copies of their favorite cult classic movies and storing them on their computers, tablets, or even their phones instead.  Don't get me wrong: digital options definitely have their place.  But I still think it's cool to collect your favorite films on DVDs and display them proudly at your home.
Find New Movies to Add to Your DVD Collection
Collecting movies on DVD gives you the chance to showcase one of your favorite pastimes.  Like movie posters, a DVD collection can be an inexpensive way to add some personality to your home.  If you already have the DVDs, then it's simply a matter of getting something to help you display them in a way that's expressive and tasteful.  Here are some of my favorite DVD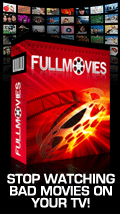 storage ideas.
Cabinets

: if you have the space in your living room, this is probably the classiest option.  Cabinets with glass doors offer the dual benefit of letting you show off your favorite movies while keeping them protected from getting damaged or destroyed.  Some entertainment centers come with these types of cabinets already built in.  And you could always add cabinets in another area or even in another room.

Towers

: these are my personal favorite way to store my DVD collection.  DVD towers come in a wide range of styles.  Some are wood but you can also purchase cheaper plastic or particle board versions as well.  I think the coolest feature on these is that some of them rotate, which saves you space and allows you to organize your movies however you like.

Bookcases

: this is definitely the cheapest of the DVD storage ideas.  Many DVDs are similar in height to most books, so converting a spare bookshelf into a DVD display is a pretty easy process.  You might run into some issues with special collectors' edition DVDs or rare, different sized releases.  But, overall, it should be pretty easy to turn your old bookshelf into an awesome DVD storage area.
With these 3 DVD storage ideas, you can turn storing your DVD collection from a burden to an opportunity.  Use these guidelines to show off your favorite cult classic movies.  Good luck getting started!

Filed under: Uncategorized
Like this post? Subscribe to my RSS feed and get loads more!